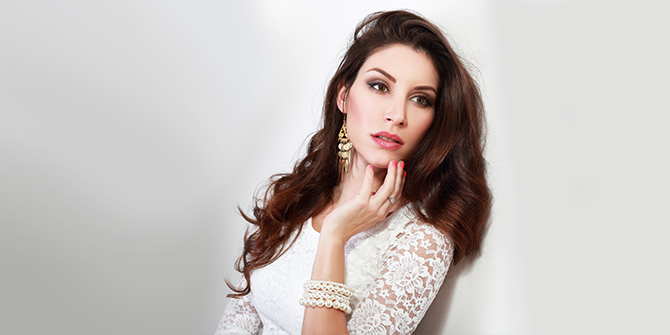 Enhance your beauty this festive season with this easy hair and skincare Guide
Everyone wants to look their best on any special occasion. But unfortunately, our hectic life leaves a lasting effect and sometimes even the best of our makeups cannot conceal the fatigue. To make things worse, the scorching summer temperature dehydrates us from within. Irrespective of all these obstacles, you must take some out for yourself and nourish your body and skin. Especially, if you're nearing any festival or special day, you need to prep up your skin and hair ahead of time. If you follow this beauty guide below that will help you get one step closer to that perfect, dewy skin and long, healthy, shiny hair. So, keep reading:
Skincare Guide
1. Baking Soda and Coconut oil Face mask:
This face mask will lighten up your face by removing blackheads, and there's no doubt, it will add more joy to your festive mood! It works as an efficient cleanser and helps to remove dead skin cells from your pores. 
Ingredients:
One tablespoon of coconut oil

One tablespoon of baking soda
Direction:
Mix the ingredients until it has a paste-like consistency

Apply the mixture on your face areas where blackheads are common

Tenderly rub the areas in a circular motion for five to ten minutes

Rinse the mask off with cool and clean water

Use a soft and clean towel to pat your face dry
2. Moisturise your skin
Lack of hydration can severely dry out your skin, which can get in the way of your festive ready glowing skin. Moisturising regularly is the key here. Moisturise your skin at least twice a day.
Try to use natural products for moisturising your body as store-bought moisturisers are filled with chemicals and can cause damage to your skin.
You can make and use coconut oil and shea butter moisture for this purpose. 
Ingredients
⅓ cup of virgin coconut oil

¼ cup of shea butter
Direction
Melt the shea butter and coconut oil together

Stir them to mix well

Pour the mixture into a dark glass container

Let it cool

Apply the moisturiser to your skin 
3. Exfoliate with Coconut oil and White Sugar Body Scrub
Festival-ready skin needs extra care and attention. Make-up residue and dead skin cells can make you look dull. To get glamorous and glowing skin, exfoliate your skin twice a week. If you use a toner, try to avoid the one that contains alcohol, as it can remove natural oils from your skin. 
You can use homemade coconut oil and white sugar body scrub to exfoliate.
Ingredients:
Four tablespoons of white sugar

One tablespoon of coconut oil 

Two to four drops of peppermint oil
Direction:
Mix white sugar and coconut oil in a bowl

Mix them until the mixture holds its shape

Then add two to four drops of peppermint oil

Apply a small amount of this mixture to your skin

Rub gently for  10-12 seconds

Rinse it off with cool water
4. Wear sunscreen
It's always a good idea to use sunscreen when you go out in the sun or stay home. So, try to avoid the sun as sunlight can dry your skin further. This is a great coconut oil skin care. 
5. Take care of your lips
Your lips can get quite dry due to dehydration. So, you can apply lip balm to keep your lips moisturised and glossy.
Hair Care Tips
1. Apply a Hair mask
Applying hair masks is a great addition to your hair care routine, as they rejuvenate your hair and promote hair growth. Here's how you can make your own DIY hair mask at home. These are great hair care tips. 
Take two tablespoons of organic melted

coconut oil

and one whisked egg

Mix them until blended in a bowl 

You can use a spray bottle to wet your hair

Apply the mixture to your damp hair evenly

You can make small sections to apply this mixture 

Let it sit for 15-20 minutes

Wash it off with lukewarm water with your regular shampoo.

Coconut oil hair care is one of the best hair care routines for your hair as it is full of nutrients, and antifungal and antibacterial properties. This oil can reduce protein loss and it gives your hair moisture and nutrition to give your shiny, strong and healthy hair. It contains biotin, Vitamins A and E and folate, which promote hair growth. Foe better result you should follow this hair care tips.
2. Deep Condition Your Hair with Coconut oil and Jojoba oil:
Deep conditioning is one of the best ways to make your hair lustrous and glamorous for this festive season. Here's how you can make a homemade deep conditioner with coconut oil, jojoba oil and lavender oil:

Ingredients
Two tablespoons of virgin coconut oil

Three to five drops of lavender essential oil

One tablespoon of jojoba oil
Direction
Put the coconut oil and jojoba oil in a small bowl

Mix them well

Add three to five drops of lavender essential oil and stir

Apply the mixture to your hair, from roots to ends

Cover your head with a shower cap

Wait for 15-30 minutes

Wash your hair with your regular shampoo 
Regularly use these hair care tips for better results. 
FAQs
How do I look good on a special occasion?
You don't need to do a whole lot to look good on a special occasion. Just follow the basics. Exfoliate your skin, take care of your hair by oiling it, use a moisturising shampoo, hydrate yourself and eat healthily. 
How do you prepare for a special occasion?
Gorgeous skin and shiny hair are essentials. For good and healthy skin, hydrate yourself, moisturise your skin and exfoliate twice a week. In addition, you can use a DIY hair mask with coconut oil and egg and massage your hair and scalp regularly with coconut oil for hair care at home. This way, you will be fully prepared for a special occasion.
How can I take care of my natural hair daily?
You can brush your hair daily to make sure your hair stays dirt-free. You can use a hairbrush made of nylon hair if you have short hair. If you have long hair, use a hairbrush with natural hair for better hair care at home.
What should we apply on hair daily?
Your hair needs moisturisation daily for better hair care at home. However, it is not recommended to oil your hair daily. Instead, you can use coconut oil hair care two to three times a week. 
Conclusion
Preparing for a special occasion requires time and patience. But the hustle and bustle of modern life make it hard to follow complicated skincare and hair care routine at home. So, follow our easy coconut oil skin care and hair care guide for being the best version of yourself at any festival. So, follow these tips and tricks religiously and see how you glow. 
References:
https://www.arabnews.com/node/1668441/lifestylehttps://utamaspicebali.com/tips-trick/skincare-routine-while-fasting-how-to-keep-your-skin-hydrated/
https://www.clinicana.com/blog/healthy-hair-ramadan/

https://eidealonline.wordpress.com/2013/07/18/keep-your-hair-healthy-during-ramadan/

https://www.healthline.com/health/coconut-oil-hair-mask#benefits
https://www.verywellhealth.com/coconut-oil-for-your-hair-4171883
https://www.arabiaweddings.com/tips/your-hair-care-during-ramadan
https://www.healthline.com/health/egg-yolk-for-hair#benefits
https://destinationksa.com/5-tips-for-healthier-skin-in-ramadan/
https://www.onegoodthingbyjillee.com/coconut-oil-hair-conditioner/
https://www.lifeinpleasantville.com/make-coconut-oil-shea-butter-moisturizer/
https://thepalettemuse.com/make-coconut-oil-sugar-scrub/