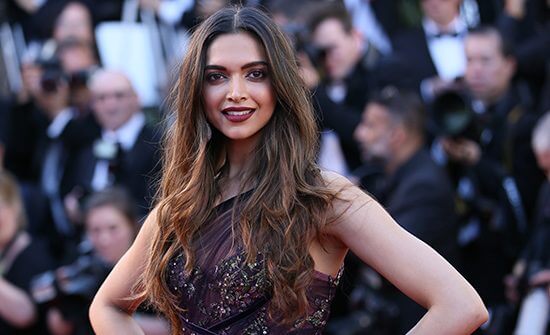 Deepika Padukone's Beauty Secrets Disclosed
Deepika Padukone is regarded as one of the most beautiful women in India.

To nourish her hair, she incorporates deep conditioning with coconut oil into her weekly

beauty routine

.

She starts her day by drinking coconut water.

Every now and then, Miss Padukone pampers herself by indulging in a spa and taking a steam bath.
It's hard to look at Deepika Padukone and not get stunned at her breathtaking beauty. I mean look at her sharp features, glowing skin, and ravishing hair! How can you not be in total awe of her?
The Om Shanti Om beauty had to stay dedicated for years to maintain her envy-worthy glory. Ergo, she was named "India's most beautiful woman" by People magazine in 2012.
But did you know that you can affordably follow Deepika Padukone beauty secrets? Deepika believes 'sharing is caring' and so she has shared her celebrity skin care routine with people from time to time.
So, if you're interested to know about Deepika Padukone skin care routine, stay tuned with us.
Deepika Padukone Beauty Tips
1. Indulge in a Spa:
Deepika knows how to pamper herself. That's why she doesn't shy away from hitting the spas frequently. She treats herself to a relaxing body massage every week. She loves to use lukewarm coconut oil or baby oil. Other than that, she's fond of steam baths. You can see the effective result in her porcelain skin.
2. Cleansing:
One of the crucial actress beauty tips given by her is prioritizing daily cleansing. But she prefers mild cleansing to harsh chemicals. Hence, she uses gentle soaps. Sometimes she substitutes regular facials with clean-up sessions.
She never goes to sleep without removing her makeup at night and so shouldn't you if you want luminous skin like hers.
To cleanse her body, she relies on a loofah. It removes dead skin cells and stimulates blood circulation and keeps her body dazzling.
3. Moisturizing:
Deepika cannot stress enough how important moisturizing is. One of her beauty secrets is to use a moisturizer with an SPF during the day. She counts on hydrating creams for that. If she goes out, she always carries her sunscreen and applies it after every few hours.
Moreover, one of her night-time beauty tips is applying a good night cream before sleeping.
4. Regular Oiling:
Deepika Padukone hair care is incomplete without coconut oil. She said in an interview, "Coconut oil massages have always worked for my hair. It's been my mantra for taking care of my hair since childhood. True dadi ma ka nuskha". That's why on her off days, she massages her scalp and hair thoroughly with this oil.
5. Deep Conditioning:
Miss Padukone once remarked that she likes hair oils more than conditioners. To get the best of both worlds, she conditions her hair with any coconut-based hair oil. It makes her hair more voluminous and stronger. Not only that, weekly deep conditioning is what adds a sheen to her hair.
6. Hair Spa:
Her love for coconut oil doesn't end there. On her spa days, she loves getting a gratifying massage with coconut oil and follows it up with a hot towel wrap. So, if you want to maintain Deepika Padukone hair care, take a day out for a hair spa. It'll not only rejuvenate your hair but also feel relaxing.
7. Staying Hydrated:
Deepika drinks as much water as she can throughout the day. She's also an ardent lover of coconut water. As per her favourite celebrity beauty tips, Deepika starts her morning by drinking coconut water. She believes that it helps in keeping her skin soft and supple.
To eliminate toxins from her body, she drinks fresh fruits or juices every two hours. Deepika believes it's one of the effective ways to attain clear skin.
8. Maintain a Balanced Diet:
If you nourish your body with healthy food, it'll reflect on your skin. She eats plain dosa with pudina chutney, egg whites, idlis, upma, or paranthas in her breakfast. She also includes fruits and coconut water in her breakfast items.
As for lunch, Deepika relishes simple food like rotis, dal, sabzi, dahi, salad, and raita. Other than that, she eats grilled fish but ensures that it's not soaked in excess oil.
Following celebrity beauty tips, she avoids heavy food for dinner. Her go-to options are porridge with homemade sabzi or a pickle. Other days, she has roti (chapati), salads, veggies, but never rice.
9. Use Skin Rollers:
To boost blood circulation, Deepika Padukone uses different kinds of skin rollers. It helps in absorbing skincare products better. Moreover, rollers reduce puffiness and make her skin look more glowy.
10. Sweat It Out:
Well, it's pretty evident from her swoon-worthy body that she works out regularly. But did you know that it's another reason behind her radiant skin? Sweating helps in unclogging her pores and rewards her with dewy skin. So, hit the gym and you'll enjoy manifold skin and health benefits.
A celebrity skin care routine isn't necessarily always high maintenance. You can easily follow Deepika Padukone beauty secrets. However, consistency is the key. Just because you're following some actress beauty tips, don't expect immediate results. If you do, you're up for disappointment.
Frequently Asked Questions On Deepika Padukone's Beauty Secrets
1. How can I make my face like Deepika Padukone?
Ans. Clean your face and then moisturize it before tucking yourself to bed. Always wear an SPF before stepping out of your house. If you plan to stay outdoors for an extended period, carry your sunscreen and reapply it every few hours.
2. How do actresses take care of their hair?
Ans. They massage their hair and scalp with warm coconut oil whenever they have time. Besides, they make time to get a hair spa every week to restore its glory.
3. How do celebrities get shiny hair?
Ans. Celebrities form a habit of deep conditioning their hair with coconut oil and other ingredients. It not only thickens their hair but also makes it shiny.
4. Does coconut oil help hair?
Ans. Yes, it does. Coconut oil is the most effective hair care component you can ever lay your hands on.
References:
https://www.indianbeauty.tips/deepika-padukones-beauty-fitness-secrets-revealed/?fbclid=IwAR0bTB7KPzOLHbafyqx7Xs5tvnnLm1gAs2Y4IZ16Xi7LYkM-lE47fjQ9L-k
https://www.dnaindia.com/entertainment/report-deepika-padukone-her-coconut-oil-secret-1708664
https://www.stylecraze.com/articles/deepika-padukones-beauty-secrets-revealed/
https://www.india.com/lifestyle/deepika-padukones-beauty-secret-heres-how-deepika-keeps-her-skin-healthy-and-glowing-2829317/
https://www.femina.in/beauty/skin/tips-for-glowing-skin-from-deepika-padukones-skincare-routine-156793-4.html