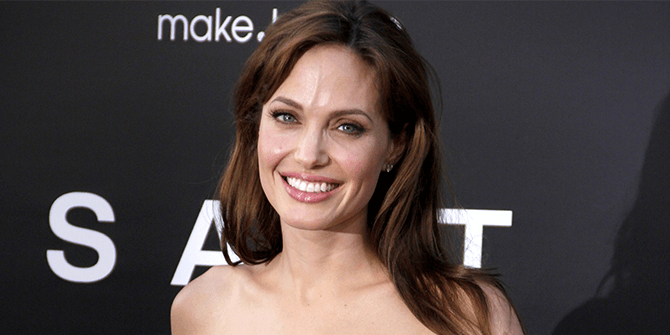 Five celebrities who use Coconut oil
Probably one of the most common beauty tips you were passed down from your grandmother, 'Coconut oil is the secret to lustrous hair and flawless skin'. Not only grandmothers but Hollywood celebrities also rate coconut oil very highly. Many celebrities applaud the multipurpose use of coconut oil and that's why it gets a special place in their beauty secrets. They have also -displayed their affection for coconut oil quite publicly.
But why is it so highly lauded?
Coconut oil is filled with antioxidants and fatty acids. Thus, it acts as a shield against the signs of ageing and different skin and hair problems 

The antibacterial and antifungal properties present in coconut oil keep the skin allergies and yeast infections 

It also reduces the possibility of thinning hair

Coconut oil is rich in lauric acid, a fatty acid responsible for hormone-balancing and moisturising your skin. It not only hydrates your skin but also restrains overactive oil-producing glands to a certain extent 

The oil also boosts collagen production to maintain the elasticity of the skin

Coconut oil is abundant with vitamin E that blocks sun damage
So, now that you've familiarised yourself with versatile benefits of using coconut oil, let's look at some celebrity beauty tips and how they use coconut oil in their beauty regimen.
Emma Stone
Remember Emma Stone from the oscar-winning Hollywood blockbuster La La Land? You might have wondered how she could keep herself so lively and fresh throughout the movie? Of course, makeup is the key, but there is another secret behind this. Emma Stone mentioned in an interview with Vogue that she uses coconut oil. Emma Stone's beauty secrets also include another medium-chain fatty acid,  "I am allergic to everything so I just use extra virgin olive oil on my skin because I know it won't cause a reaction. At night, I take off my makeup with coconut oil."
Miranda Kerr

Miranda Kerr, the famous model of Victoria's Secret, is also an admirer of coconut oil. Miranda Kerr's beauty secrets are incomplete without this oil. In an interview with the Huffington Post, she explained, "I cook with it, use it in my hair, it's great to remove makeup…really good for eye makeup if you've got sensitive eyes. If you have a burn, like if you've burned yourself with a curling iron, you can put a bit of that on there to help. Sometimes I sleep with coconut oil in my hair."
Later on during the interview, Kerr explained, "I have an exfoliating cream in my line that is good for your face, but sometimes I like to mix it up and get sea salt and coconut oil or olive oil and scrub it all over my body…"
Also, read about Miranda Kerr's beauty secrets.
Gwyneth Paltrow 
Talk about Gwyneth Paltrow beauty secrets and skip coconut oil? That would be inappropriate. While watching Ironman, you might wonder how Gwyneth Paltrow, aka Pepper Potts, keeps her skin so shiny? Here are the actress' beauty tips. Paltrow uses coconut oil regularly for moisturising her skin and for other purposes too. In an interview with Glamour Magazine, she shared her affection for coconut oil, "I use coconut oil a lot. I do on my face, on my skin, and in my cooking. And I just started oil pulling, which is when you swish coconut oil around [in your mouth] for 20 minutes, and it's supposed to be great for oral health and making your teeth white. It's supposed to clear up your skin, as well."
Kourtney Kardashian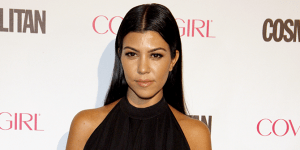 The oldest Kardashian sister is another big fan of coconut oil. In her Hello Magazine blog, she revealed the Kourtney Kardashian beauty secrets. Explaining the secret to her long hair, she said "Healthy eating, good genes and a great shampoo and conditioner from Rahua. Oh, and coconut oil." She further said, "I love using coconut oil on my body." Also, in a blog in Vogue magazine, she told how she used coconut oil for her makeup removal. First comes a clarifying mask mixed with a dollop of honey, which "feels a little weird, but is all for a good cause." Then she applies a homemade lip scrub, made from equal parts organic sugar, honey, and coconut oil, while the mask dries. 
Also, read why Kourtney Kardashian is a big fan of coconut oil as a beauty ingredient.
Angelina Jolie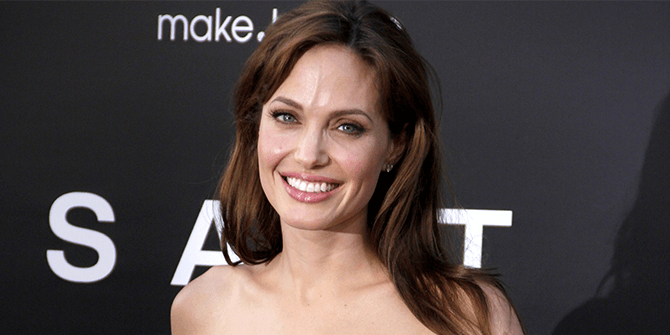 Probably one of the most celebrated actresses of this time, Angelina Jolie also rates coconut oil highly. So, you shouldn't take her beauty secrets lightly. Though she has not spoken about it publicly, according to Dailymail UK, one of the closest sources revealed some of Angelina Jolie's beauty secrets, "Angelina has been known to start her day with little more than a spoonful of coconut oil and a handful of cereal". It's one of the easiest ways to exercise celebrity beauty tips. So, you should give it a try. 
If you count on celebrity beauty tips to take care of yourself, know that you can benefit from the aforementioned secrets and tips of these actresses. So, keep faith in coconut oil and incorporate these beauty tips into your regular beauty regimen.
You can learn more about coconut and its benefits by reading our blogs from the coco science blog section.
Frequently Asked Questions
1. What oil do celebrities use?
– Celebrities use different types of oils. Coconut oil is one of their favourites. 
2. What do celebrities use for hair growth?
– Celebrities use coconut oil, castor oil, etc. for hair growth.
3. How do actresses grow hair so fast?
– They stick to their hair care routine religiously and regularly oil their hair.
4. What oil do celebrities use on their face?
– Celebrities use coconut oil, olive oil, jojoba oil, and other essential oils on their face. 
Reference:
https://www.vogue.com/article/beauty-moment-emma-stone-on-mascara-being-blonde-again-and-designer-alber-elbaz
https://www.huffpost.com/entry/miranda-kerr-hair-secrets-coconut-oil_n_5159292
https://www.glamourmagazine.co.uk/article/gwyneth-paltrow-oil-pulling-to-make-your-teeth-white-using-coconut-oil
https://www.hellomagazine.com/healthandbeauty/skincare-and-fragrances/2016072732647/kourtney-kardashian-reveals-her-beauty-secrets/
https://www.vogue.com/article/kourtney-kardashian-poosh-clean-natural-beauty-routine-makeup
https://www.dailymail.co.uk/femail/article-2064732/Is-Angelina-Jolie-surviving-just-600-calories-day.html