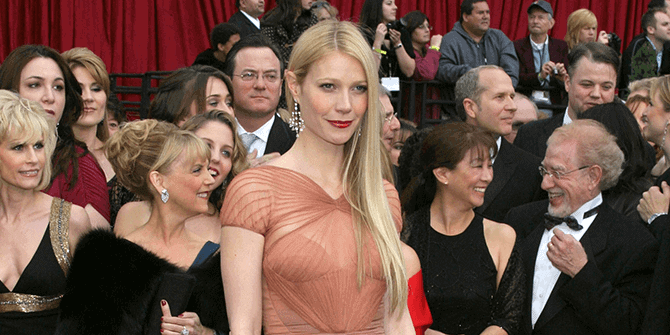 Gwyneth Paltrow has a 'different plan' with Coconut Oil
Gwyneth Paltrow is not only a leading Hollowood actress but also an influential lifestyle guru nowadays.
She is fond of Coconut Oil, especially for dental hygiene.
Coconut Oil pulling can have many health benefits such as reducing gum inflammation, benefits digestion, and lessening migraine problems.
---
Gwyneth Paltrow has been a household name for Hollywood lovers. From Ironman to Great Expectations, she has been rocking the industry for some time. But more importantly, she has started a successful simultaneous career as a Lifestyle Guru. She has founded her own lifestyle company Goop. So not only as an actress, Paltrow's recommendation adds more value as an industry expert too.  When the beautiful Californian expresses her fondness for Coconut Oil, it means something.
As a natural ingredient, Coconut Oil has been immensely popular with the celebrities for various purposes. Emma Stone uses it for her skincare, Miranda Kerr also relies heavily on Coconut oil to remove her makeup. However, Paltrow has a bit of a different plan with Coconut Oil. She likes to use it as a part of her dental hygiene. In an interview with Glamour magazine, Paltrow stated, 'I use coconut oil a lot. I do on my face, on my skin, and in my cooking. And I just started oil pulling, which is when you swish coconut oil around [in your mouth] for 20 minutes, and it's supposed to be great for oral health and making your teeth white. It's supposed to clear up your skin, as well."
Coconut Oil has been extensively used in skincare, nothing surprising in that. But what does Oil pulling mean? How does it help to improve dental hygiene? This is a Subcontinental Ayurvedic way to take care of your teeth. According to Manoj Kutteri, wellness director, Atmantan Wellness Centre, 'Gandusha and oil pulling have been a part of ancient Ayurvedic panchakarma from ancient times. You swish the oil from one side to the other.' It is suggested to do this just after waking up in the morning, even before drinking water. Dr. Manoj has suggested using either coconut or sesame oil, and sticking to a quantity of one tablespoon for comfort.
There are lots of benefits to this particular practice. 'Oil pulling with Coconut is a great supplementary treatment if it's an add-on to good oral hygiene', says Mumbai-based dentist, Dr. Tina Chhatpar. It is not an alternative for brushing or flossing, but it can reduce gum inflammation. Secondly, Coconut Oil pulling benefits digestion and gut health. According to Dr. Manoj, 'The healthy fats in the oil signal the stomach to produce less acid, which balances excess dosha (phase) in the digestive system'. Thirdly Coconut Oil pulling also can help to drain the sinuses and reduce the headache in the process. The process of oil pulling can create warmth inside your mouth due to the improved circulation and can be helpful for the nervous system.
The procedure of oil pulling is simple. As mentioned earlier, measure one tablespoon of coconut, sesame, or olive oil. Then swish it in your mouth for around 15 minutes. Just be careful that you don't swallow any oil. Then split the oil in the trash when you are done. Then rinse your mouth well with water before eating or drinking anything.
Paltrow rarely uses cosmetics and prefers natural ingredients for her skincare. That is why she is fond of Coconut Oil. She also stated that after taking the bath she slathers her skin using extra virgin Coconut Oil. Beauty experts suggest using coconut oil after a bath helps it to sink into the skin well.
Many other celebs use coconut oil too. Check out what Priyanka Chopra has to say on using coconut oil for hair and skin care. You can learn more about coconut and its benefits by reading our blogs from the coco science blog section.
References
https://www.vogue.in/beauty/content/benefits-of-oil-pulling-ayurvedic-technique-anushka-sharma
https://www.eonline.com/news/523760/gwyneth-paltrow-talks-skin-care-routine-explains-what-oil-pulling-is-why-she-swears-by-it
https://cocomilagro.com/gwyneth-paltrow-i-use-coconut-oil-a-lot/