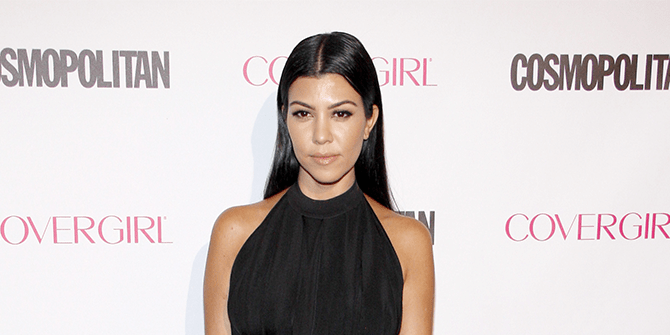 Kourtney Kardashian just loves Coconut Oil. Here's why…
Kourtney Kardashian is a famous beauty guru and media personality.
She is an avid user of Coconut Oil and prefers to use it in her body.
Kourtney also uses Coconut Oil in her DIY lip scrub.
---
Maybe she is not the most famous Kardashian, but probably Kourtney Kardashian is the real beauty guru in the family. If you follow Keeping up with the Kardashians or visit her blog, you will surely be convinced about the fact.
Like most of the Coconut-Oil lovers,  Kourtney uses it in her hair. On top of it, she also uses it on her body. Once Kourtney revealed that she includes Coconut Oil as a part of a hair mask to keep her locks shiny. In another interview with Hello magazine, she revealed that she uses it not only for her, but also for her 8-year-old daughter Penelope, "I love using coconut oil on my body. I've been using it since I had Penelope and used it on her.' According to her app, Kourtney applies coconut oil to her body "right out of the shower" and let it sit for 10 minutes.
Actually, all of the Kardashian sisters adore Coconut Oil to some extent. Khole Kardian once revealed to Hello Magazine, 'I'm now a huge fan of coconut oil, avocado oil and argan oil from Morocco. I use them on my hair and skin and even cook with coconut oil.' Maybe Khloe's Coconut-Oil fascination is somehow influenced by her elder sister Kourtney.
So what are the benefits of using Coconut Oil on the body?
Scientifically it can be explained such as: Coconut Oil has antimicrobial properties that can help protect against harmful microorganisms. It is more important for skin health. Skin infections including acne, cellulitis, folliculitis, and athlete's foot, are caused by bacteria or fungi. Applying coconut oil directly to the skin may prevent the growth of these microorganisms. Also, Coconut Oil can reduce the inflammation of the skin and help to remove acne. Finally, the reason why Kourtney uses it after taking a shower is probably that Coconut Oil can act as a moisturizer for dry skin. Keeping your skin hydrated, it can act as a barrier to keep out bacteria, promote the healing of scars and maintain overall skin integrity.
In addition to all of these, Kourtney also recommends Coconut Oil in her homemade beauty recipes. Like she has shared one with her followers: A DIY lip scrub made with Coconut Oil, Manuka Honey, and Sugar. This DIY scrub can heal the chapped and cracked lips. It sloughs off the layer of the damaged skin to reveal the softness underneath. Sugar exfoliates and the moisturizing property of Coconut Oil and honey makes the lips soft and supple.
The recipe is in fact simple. Measure one teaspoon of sugar into a small bowl. Add a teaspoon of Coconut Oil with it. Measure a scant teaspoon of honey and mix it with oil and sugar. Mix the whole thing with a spatula or plastic spoon, fill the tin with scrub. Use it three times a week and that should do the trick.
References: 
https://www.hellomagazine.com/healthandbeauty/hair/2013071913621/kardashian-sisters-natural-beauty-coconut-oil/
https://www.hellomagazine.com/healthandbeauty/skincare-and-fragrances/2016072732647/kourtney-kardashian-reveals-her-beauty-secrets/
https://www.cheatsheet.com/gear-style/kourtney-kardashian-beauty-secrets-manuka-honey-coconut-oil.html/
https://www.healthline.com/nutrition/coconut-oil-and-skin#TOC_TITLE_HDR_3
https://www.azcentral.com/story/entertainment/holidays/2017/12/01/christmas-diy-coconut-honey-lip-scrub-grateful/915299001/