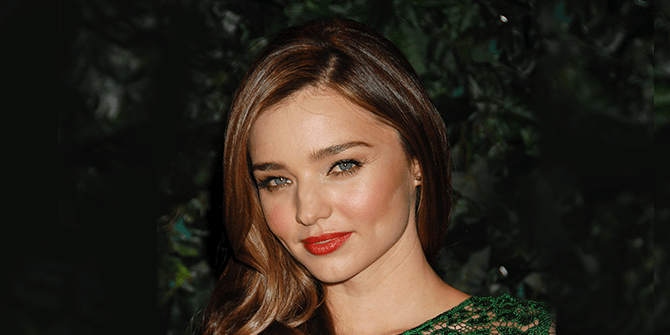 Miranda Kerr reveals her beauty secrets: Coconut Oil
Miranda Kerr is a famous Victoria Secret Model known for her ageless beauty.
She is an avid user of Coconut Oil in her daily life.
Miranda uses Coconut oil for her haircare and to remove her makeup. She also uses it in her cooking.
---
Sometimes you may wonder how Miranda Kerr is such an ageless beauty! The Victoria Secret model looks like she is still in her teens. But what is the secret of her beauty? The beautiful Australian has credited Coconut Oil as her beauty-secret.
In an interview with Vogue magazine, Miranda revealed, 'I will not go a day without coconut oil. I personally take four tablespoons per day, either on my salads, in my cooking or in my cups of green tea,"' In another interview with Huffington Post, she also revealed her fondness for Coconut Oil, 'I cook with it, use it in my hair, it's great to remove makeup … really good for eye makeup if you've got sensitive eyes. If you have a burn, like if you've burned yourself with a curling iron, you can put a bit of that on there to help. Sometimes I sleep with coconut oil in my hair. The Clear Intense Hydration Mask, which has coconut oil in it, is good to put on the ends of your hair to smooth and keep nourished.'
As an avid user of Coconut Oil, Miranda also uses it for exfoliating 'I have an exfoliating cream in my line that is good for your face, but sometimes I like to mix it up and get sea salt and coconut oil or olive oil and scrub it all over my body.' Miranda claims to take four tablespoons of the oil. However, the optimal recommended for an adult is between two and three.
One of the visible impacts of Miranda's Coconut-affinity is of course her ageless beauty. According to skincare expert Danielle Conte a quality coconut oil "is a wonderful all-natural 'anti-aging' moisturizer when applied topically. When absorbed into your skin and connective tissues, coconut oil helps to reduce the appearance of fine lines and wrinkles by helping to keep your connective tissues strong and supple. It also helps exfoliate the outer layer of dead skin cells, making your skin smoother."
Wrinkle is one of the reasons for your aging skin, so Coconut Oil is a proven remedy to get rid of wrinkles. Coconut Oil contains fatty acids that are said to leave skin and hair smooth and shiny.
Coconut Oil also helps to reduce the level of cholesterol and can boost immunity. Experts say that coconut oil's lauric acid, which is a healthy type of saturated fatty acid, is quickly burned up by the body for energy rather than stored. That's why some people think of coconut oil as a potential weight-loss tool.
According to the Daily Mail newspaper, sales of coconut oil products increased by around 50 percent back in 2009 thanks to Miranda's recommendation. So you should not make any delay to follow Miranda's footsteps.
References:
https://www.vogue.co.uk/article/mirand-kerr-coconut-oil#:~:text=MIRANDA%20KERR%20has%20attributed%20her,a%20day%20without%20coconut%20oil.&text=Extracted%20from%20the%20flesh%20of,and%20hair%20as%20a%20moisturiser.
https://www.huffpost.com/entry/miranda-kerr-hair-secrets-coconut-oil_n_5159292
https://www.huffpost.com/entry/miranda-kerr-hair-secrets-coconut-oil_n_5159292
https://www.byrdie.com/coconut-oil-for-skin#:~:text=According%20to%20Conte%2C%20a%20quality,connective%20tissues%20strong%20and%20supple.
https://www.healthline.com/health/coconut-oil-for-wrinkles#1
https://www.healthline.com/health/high-cholesterol/coconut-oil#coconut-oil
https://www.dailymail.co.uk/femail/article-2029573/Victorias-Secret-supermodel-Miranda-Kerrs-coconut-oil-beauty-secret.html