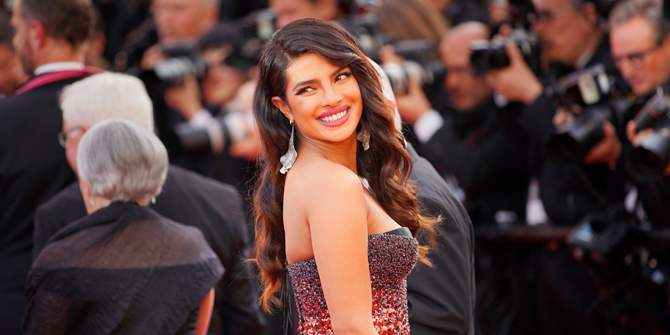 Coconut Oil is the secret of Priyanka Chopra's hair and skincare
Priyanka Chopra is one of the leading Bollywood actresses at the moment.
She has proclaimed her affection for coconut oil publicly
Priyanka uses coconut oil scalp treatment regularly
Advised by her mother, she also uses coconut oil for her makeup removal
From a Miss World Pageant winner to Bollywood diva, Priyanka Chopra then rose to stardom by rocking Hollywood and became one of the most influential Indian entertainers. She keeps us mesmerised with all of her charms. The sheer talent and beauty of Priyanka Chopra speak loudly and boldly without uttering a word. As an actress or model, glamorous skin and dazzling hair are a few of her beauty assets. one can credit coconut oil for her skin and hair, and she has also publicly expressed her fondness for the oil several times
Priyanka Chopra's hair care
In many of her interviews, Priyanka Chopra expressed her strong family bonding, which made her so confident to touch the sky. It was her grandmother who was very close to her heart in childhood. Just like the traditional subcontinental culture, Priyanka also adopted coconut oil scalp treatment passed from her grandmother. She shared some classic "Priyanka Chopra hair care tips"
In an interview with Vogue Magazine, Priyanka Chopra said, "Because I was born in India, I've been exposed to many herbal tricks and remedies; the women in the family always have easy ways of [caring for] things, especially hair. It started with my grandmother. Three days of the week at least, she would sit me down, and it was sort of a traditional thing in India that you do: Moms oil their daughters' hair and braid it."
From the tender age till now, Priyanka practices a traditional hair care remedy twice a month.
She heats the coconut oil and then massages her scalp
She wraps her hair in a hot towel so that the oil is soaked well into the hair
 Finally, she shampoos and conditions as usual
According to Priyanka Chopra, "I guess thanks to that, I have extremely luscious hair that can stand up against the brutality of my profession!"
Priyanka Chopra's Skincare
Not only for hair care, but Priyanka also adores Virgin Coconut Oil like other celebrities for her skincare. Her mother, Dr Madhu, helps her to take care of the makeup. In an interview with Harper's Bazaar, she said, "Since she (her mother Madhu) was a little girl, she always took care of her skin and made me realise when I was a little girl the importance of it," she says. "Of course, when you're young, you don't listen as much, but as I grew older, I realised all these little tricks and amazing secrets that she had were integral to my skin." That's what been added for priyanka chopra's skin care tips.
But their ultimate trick to get the best skin is Coconut Oil. Here are some tips from celebrity skin care routine
Priyanka and her mum use Coconut Oil to take off their makeup and recommend leaving it on the face for a few minutes.
Then remove it with a moist towel; that way, it exfoliates and hydrates skin.
Priyanka Chopra said: "It just takes off all your makeup, and it helped with my dry skin". "And your pores say, 'ah thank you,'" her mum agreed. This is a great "Priyanka Chopra skin care routine".
Like Priyanka Chopra, makeup removal with Coconut Oil can be a part of your daily skincare routine too. Coconut oil works efficiently as a makeup remover. According to cosmetic chemist Joseph Cincotta, "Coconut oil solubilises or breaks up water-resistant substances used in eye-shadow and mascara, releasing them from the skin and lashes."
To heal dry skin
The ever-gorgeous Priyanka Chopra keeps us glued to the screen with her scintillating amazing acting and her natural charm. Her smooth and glowing skin makes us yearn for her beauty secrets. As it turns out, Priyanka Chopra uses our favourite oil, coconut oil, for dry skin in her skincare routine.
After a shower, she uses a few drops of coconut oil on her damp body to moisturise her skin.
In case she has had a rough day and has extremely dry skin, she mixes Vitamin E capsule in coconut oil and applies them all over.
She also drinks Coconut water and green juices to keep her body hydrated and her skin radiant.
So, Coconut Oil can be your ideal element for your hair and skin care, just like the gorgeous Priyanka Chopra.
Many other celebs use coconut oil too. Check out what Emma Stone has to say about her beauty secrets. You can learn more about coconut and its benefits by reading our blogs from the coco science blog section.
Frequently Asked Questions On Thick & Long Hair Home Remedy
1. Is coconut oil good for skin and hair?
Ans. Most beauty tips include coconut oil for being rich in antioxidants and fatty acids. It contains Vitamin E and Lauric acid, and they keep your hair and skin healthy. Coconut oil is a remedy for damaged hair, and it prevents protein loss from damage due to combing and reduces dandruff. It also helps in moisturising your skin and, for its soothing properties, help you soothe your skin irritation if you have any. So, yes, it is excellent for skin and hair, and you can easily include coconut oil in your beauty routine.
2. How can  I use coconut oil for hair on my face?
Ans. Some people said in their beauty tips that coconut oil helps clear their acne breakouts and makes the skin softer and brighter. But, coconut oil is comedogenic, which means it can clog up your pores. So, if you have oily skin, do not keep coconut oil on your face overnight as it might cause pimples.
3. How do celebrities have such clear skin?
Ans. Celebrities often wear heavy makeup due to their nature of the job. But they maintain a healthy and suitable skincare routine religiously. Celebrities like Priyanka Chopra remove makeup with coconut oil as it simultaneously exfoliates and hydrates her skin. She also drinks plenty of coconut water and green juices as her skincare routine.
4. How do celebrities get glowing skin?
Ans. A celebrity's skincare routine is not that different from regular people. They drink plenty of water to keep their skin hydrated. Some of the stars, like Priyanka Chopra, use coconut oil to keep their skin moisturised. By maintaining a healthy skincare routine, they get that glowing and glamorous skin.
Conclusion
Priyanka Chopra is an icon of beauty and talent. Her beauty tips inspire millions. We can't all be  Priyanka Chopra, but her skincare and hair care routines can surely help us get healthy glowing skin and gorgeous hair. As Priyanka Chopra's beauty secrets become yours, now you can be a star with marvellous skin and breathtakingly beautiful hair and, of course, with sheer confidence! Use this amazing "actress beauty tips" to pamper yourself.
References :
https://www.vogue.com/article/priyanka-chopra-wellness-rules-to-live-by-hair-remedies-pantene-ayurveda
https://www.harpersbazaar.com/beauty/skin-care/a21733019/priyanka-chopra-mom-beauty-secrets/

https://www.allure.com/story/coconut-oil-makeup-remover#:~:text=Turns%20out%2C%20coconut%20oil%20isn,a%20really%20good%20makeup%20remover.&text=Smooth%20that%20over%20your%20skin,take%20your%20makeup%20with%20it

https://www.dermstore.com/blog/top_ten/benefits-coconut-oil-skin-hair/#:~:text=%E2%80%9CCoconut%20oil%20is%20rich%20in,to%20our%20skin%20and%20hair.&text=When%20it%20comes%20to%20hair,hair%20loss%20and%20even%20frizz.

https:///www.healthline.com/health/beauty-skin-care/coconut-oil-on-face-overnight#side-effects

https://www.vogue.in/beauty/content/priyanka-chopra-skin-care-hair-care-tips-ayurveda-positivity-and-coconut-oil

https://www.idiva.com/beauty/celebrities/priyanka-chopra-reveals-the-secret-to-her-glowing-skin/18009427#:~:text=In%20an%20interview%20with%20a,to%20heal%20her%20dry%20skin