Complete Monsoon Skin Care Guide
Rainfall; the light from street lamps stretching all across sight and just the sound of crickets chirping and heavy downfall. You stand across your living room window. Monsoon truly is a blessing in some ways and again, an antagonist in many others. Take for instance the high humidity during Monsoon. Sooner or later it takes a toll on your skin, given you don't pay much attention to your skincare. Here's 5 DIY Coconut oil recipes for skin products that you can easily make at home, and one that should fix all your Monsoon skin problems!
1.Coconut Oil Lip Balm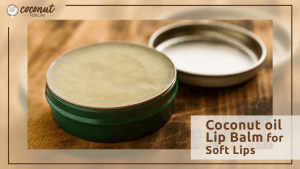 Due to high humidity, your lips remain dry and chapped during Monsoon. Here's a 2 ingredients, simple to make lip balm that keeps your lips moisturized. Melt 1 teaspoon Petroleum Jelly and 1 teaspoon Coconut oil in a pan or microwave. Pour the mixture into your preferred container and let it freeze for 30 minutes. Apply to your lips when dry!
2. Coconut Oil Lotion Bar 
Skin conditions like dry and flaking skin, eczema are common during Monsoon. This 3 ingredient Coconut oil Lotion Bar softens your skin and relieves dryness and flaking. It also helps treat skin problems like eczema and keeps your skin hydrated. The idea is simple. Take 1 part Coconut Oil and 1 part pure Beeswax. Heat it together in a saucepan on low heat. Once they have melted, add Essential oils of your choice (optional) as per your desired fragrance. Make sure you only add a few drops. Let the mixture cooldown; you may also refrigerate it to speed up the process. It will solidify. Whenever you need to use it, just rub it until its warm. You may then apply it to your skin like a lotion.
3. DIY Coconut-Lemon Face & Body Scrub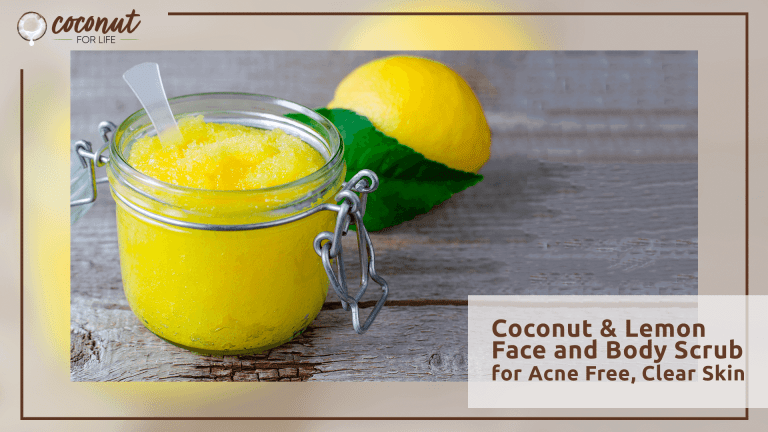 Monsoon is the season of breakouts- that of the skin. This, added to dry skin, creates a rather messy situation! So before you slip into such turmoil, make yourself this easy to make body scrub. It gently exfoliates your skin and helps treat breakouts.It also moisturizes your skin and brightens its tone. Simple take 1 cup pure white sugar, 1 ½ tablespoons Coconut oil, 1 tablespoon Raw Honey and 2 tablespoons pure Lemon juice. Mix it all in a bowl until it reaches a thick paste like consistency. Store in a plastic container with a lid. It is preferable that you whip up small amounts in a batch and use it up while it's still fresh. You may use this scrub on your body and face 2-3 times a week before showering.
4.Coconut Turmeric Facemask for Oily skin
Monsoon, due to its damp nature and humidity causes excessive perspiration which then leads to bacterial or fungal infections such as Acne. To keep your skin Acne free and hydrated, use this Facemask. It is designed especially for oily skin and fends off bacteria. Heat 1 tablespoon Coconut oil until it liquefies. Then add 1 tablespoon Turmeric and whip it with a fork. Once the mask turns a vibrant yellow hue, apply it to your skin and leave it on for 10 minutes. You may notice a slightly tingly sensation on your skin. Rinse it off with water.
5. Honey Coconut Face Mask for Dry & Sensitive Skin 
Those with dry and sensitive skin often find it difficult to find a facemask that suits their skin. Regardless, it is important to treat your skin, as well as soothe it, especially during Monsoon. Luckily, here's a facemask recipe that's easy to prepare and a great match for dry & sensitive skin! Just heat up 1 tablespoon of Coconut oil and let it liquefy. Mix 1 tablespoon of Honey and 1 tablespoon of Plain Yogurt to the mix and whisk it thoroughly. Gently massage the mask on your face for 10-15 minutes. This helps the mask soak in and hydrates your skin. Rinse with water. Enjoy brighter, moisturized skin!
Source:
https://www.stylecraze.com/articles/use-coconut-oil-lip-balm/#CoconutOilLipBalm
https://thecoconutmama.com/coconut-oil-lotion-bar/
https://greeneyedgrace.com/diy-coconut-lemon-sugar-scrub/
https://indianexpress.com/article/lifestyle/life-style/5-common-monsoon-skin-problems-and-how-to-fix-them-2883592/
https://www.businessinsider.com/homemade-face-masks-you-can-make-with-coconut-oil-2017-4