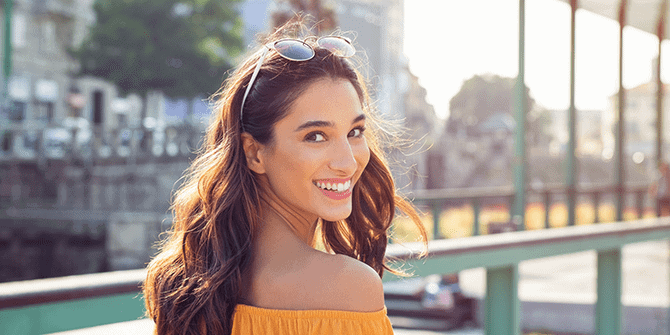 Get Brighter skin With Coconut Milk
Get brighter skin with coconut milk 
Coconut milk, known for its skin whitening properties, brings out your glowing and soft skin

Mix Coconut milk with yoghurt and massage your face for a minute. Rinse it off for glowing skin

Mix Coconut milk with oats to prepare a face scrub

Mix Honey and Coconut milk to prepare a face mask. This boosts your complexion and cures acne

Soak rice in Coconut milk to create a face toner that brightens your skin
If your face is badly tanned this summer, but you still want to abstain from using inorganic products, we've got just the right deal for you – Coconut milk. Known for its skin whitening properties, you can use Coconut milk to get glowing and soft skin at home. Make a Coconut Facial or mix it with a scrub to bring out that radiant glow you're looking for. 
Benefits of Coconut Milk for Skin
We are familiar with the excellent benefits of coconut oil for our hair, but the awesomeness of coconut milk for skin remains a little obscure. Coconut milk has an abundance of saturated fatty acids and can make your skin youthful as it has Vitamin E and C.  It is also rich in protein and minerals essential for our skin. Here are some amazing benefits of coconut milk for the skin: 
If you have acne-prone skin, then here's a piece of good news for you! Coconut milk can help you prevent acne as it has antibacterial properties. Use coconut milk as a cleanser and see the result for yourself!

As you age, the signs of ageing start to appear on your face. But what breaks our heart is when our skin ages prematurely and wrinkles appear when it isn't supposed to. But don't worry, whether it is premature ageing or wrinkles in general, coconut milk helps tighten your skin and enhances skin elasticity as it is rich in vitamin C and minerals. 

We have all faced the mighty scorching sun and got sunburned at least once in our life. The burning sensation isn't enjoyable at all, and we think we all can agree on that. Coconut milk can soothe that burning sensation from sunburn as it has anti-inflammatory properties and can reduce the redness and swelling caused by sunburn on your skin. 

Coconut milk is also an excellent skin moisturiser, and can be used for

DIY skin brightening

at home! 
How Can You Make Coconut Milk at Home?
Making coconut milk is pretty straightforward. You can milk coconut at home with ease, and here's how you can do it: 
Pick a fresh coconut that has water in it

Make small pieces from that coconut

Put the pieces into a blender with two cups of clean water

Blend it until it reaches a paste-like consistency

Strain the paste with a muslin cloth or a filter

Collect the coconut milk in a glass jar and store it in a refrigerator
Add a line here
Coconut milk for Cleansing
Using Coconut milk with yoghurt acts as an excellent face cleanser

Just take one tablespoon of curd and one tablespoon of coconut milk

Mix it up and massage your face with it for a minute

Rinse off for brighter and glowing skin
Coconut Milk Scrub
Mix one tablespoon of coconut milk with one tablespoon of oats to make a scrub

Scrub your face for two minutes and wipe off with a tissue or damp towel

This will help exfoliate your skin
Coconut Oil Face Mask
Prepare a face mask with one tablespoon of honey and one tablespoon of Coconut milk and apply it to your face using cotton pads

Let it sit for 10 minutes

Then wash it off with cold water

This mask boosts your skin complexion and keeps your skin acne-free
Coconut Milk Toner
Take Tthree tablespoons of raw rice and soak it in coconut milk

Keep it inSet aside for a day, and then use it as a face toner

You can may store it in your refrigerator and use it for two to three days. This toner helps the skin brightening effect last longer
Coconut Milk  Face Pack
Take four almonds (soaked overnight) and blend them into a smooth paste

Add two tablespoons of coconut milk and two tablespoons of lemon juice to the paste

Add  one tablespoon of milk powder for better mixing and blend the mixture again

Clean your face thoroughly before applying this face pack to your face and neck

Rinse it off with cool water after 15 minutes

Use this

coconut milk face pack for skin brightening

 
You may repeat the entire process every 10-15 days to get glowing, fair, spotless and younger-looking skin. 
FAQs
1. Can coconut milk whiten skin?
– Coconut milk does not make our skin whiter. It is used as a skin brightening home remedy. It simply makes your skin brighter as it is rich in vitamin C and E. Coconut milk can be used in a face pack, as a scrub and cleanser and as a toner, and it helps to make your already beautiful self even more stunning with glowing and smooth skin.
2. Can we apply coconut milk on the face daily?
– Coconut milk can be used in preparing toner, face pack, cleanser, face mask and scrub. It is highly moisturising, and yes, you can use coconut milk on your face daily as a face brightening home remedy as it does not clog your pores.
3. Does coconut milk help my skin?
– Coconut milk helps to preserve skin's youthfulness and reduce wrinkles. It also helps prevent premature skin ageing by enhancing skin elasticity as it is rich in vitamin C and E. It also helps to soothe sunburn and can make your skin brighter. So, yes, coconut milk helps your skin in many ways. 
4. Can I leave coconut milk on my face overnight?
– Coconut milk is incredibly moisturising and does not clog your pores. When you use coconut milk in a face pack, scrub or a cleanser, you don't need to leave that on your face overnight, only for a few minutes. But if you want to wash your face with coconut milk before going to bed, it is okay. 
Conclusion
Coconut milk has been used as a skin brightening home remedy for ages, and it is now garnering a massive following as a face brightening home remedy. Coconut milk is one of the best ways for skin brightening naturally, and you can now get glowing, smooth and brighter skin at home with ease!
References:
https://www.hercampus.com/beauty/i-treated-my-hair-coconut-oil-im-never-going-back

https://https://diycandy.com/overnight-coconut-oil-hair-mask/
https://https://theindianspot.com/coconut-milk-for-skin-brightening/
https://www.beautiful-you.in/homemade-coconut-milk-benefits-for-skin-and-hair/
https://food.ndtv.com/beauty/10-amazing-coconut-milk-benefits-for-hair-face-and-skin-1421580