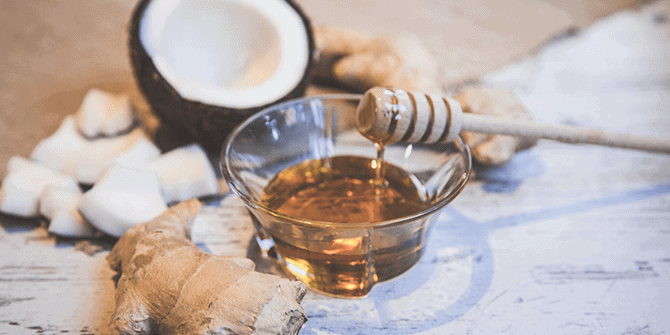 Tired of Acne? Put on a Honey, Green Tea, and Coconut Oil Mask
Coconut oil is rich is saturated fats that help fight acne.
Prepare the pack mixing coconut oil with honey and green tea leaves.
Apply the mask and leave it on for 10 minutes.
Rinse off and pat dry your face with soft towel.
Coconut oil works wonders for your skincare routines. Coconut oil can be used for just about anything from culinary delights to conditioning your hair. It is also easily available. Coconut oil consists of mostly saturated fats like Lauric acid, which is great for treating acne. It provides your body with healthy fat. Not to forget, it promotes Antioxidants; and is also Antimicrobial & Anti-Inflammatory.
This face mask recipe combines Coconut oil with other acne-fighting ingredients. However it needs to be washed off after the designated period, so that it doesn't clog the pores of your skin.
Benefits:
Reduces redness and soothes your skin
Leaving your skin with an afterglow
Best for dry and sensitive skin.
Ingredients:
1 Tsp Coconut oil
2 Tbsp Honey
1 Tbsp Green Tea Leaves (Grinded)
Preparation:
Combine Coconut oil and Honey and once evenly mixed add in the green tea leaves. Stir all ingredients to mix well
Application:
Using your fingers or a cotton bud
Apply the mask to acne affected regions.
Leave the mask on for 10 minutes.
Use cool or lukewarm water wash your face properly.
Continue rinsing your face doesn't feel oily anymore. Leaving excess oil on your face for any longer than the mentioned period could clog your pores
Pat your face dry using a soft towel after you've finished washing your face.
Different types of coconut face masks can be made at home using coconut oil or coconut milk. One such example is coconut milk clay mask. Head over to our face care blog section to check out articles on various face care products.
Reference:
https://www.purefiji.com/blog/coconut-oil-face-masks/
[sc name="recipe-tired-of-acne-put-on-a-honey-green-tea-and-coconut-oil-mask"]