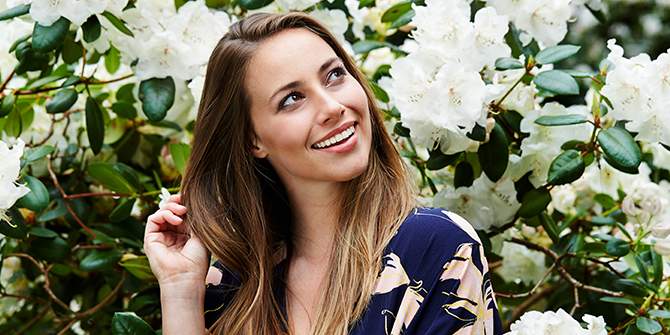 Get Strong and Silky Hair with Coconut and Aloe Vera
Both Aloe Vera & Coconut are enriched with vitamins & minerals
Coconut contains lauric acid & capric acid which help to remove sebum which is built up from hair follicles
Aloe Vera contains proteolytic enzymes that help repair dead cells on your scalp.
Aloe Vera can be used directly by extracting from the plant.
Using Coconut with Aloe Vera makes your hair strong and silky
---
Coconut is a natural ingredient for long, thick & strong hair. It helps to nourish the scalp and combining it with aloe Vera makes your hair strong and silky.
Aloe Vera and Coconut are bothenriched with vitamins & minerals which are the safest natural ingredients for hair treatment.
Coconut helps your scalp fight fungal infections, bacterial problems, dandruff, lice etc. It moisturizes dry hair and makes hair strong. Coconut is the best solution for reducing protein loss in hair. Coconut contains lauric acid and capric acid which help to remove sebum which is built up from hair follicles.
Aloe Vera contains proteolytic enzymes that help repair dead cells on your scalp. It also improves the health of hair follicles. Aloe Vera promotes hair growth and conditions hair naturally making your hair soft and silky. Therefore you don't need to use a chemical conditioner.
Positive effects of using Aloe Vera and coconut for hair care:
Using Aloe Vera on your hair penetrates follicles. Applying Aloe Vera with Coconut twice a week will give you the best result. Its antibacterial property helps clean up sebum.
Using Aloe Vera and Coconut together increases hair strength and silkiness. These two ingredients are very helpful in preventing hair fall.
Both Aloe Vera and Coconut can condition hair very well. Using these two ingredients together removes dead cells on the scalp and holds the natural softness of hair.
Usually wet hair absorbs excess water causing hair to swell, which is harmful. Coconut and Aloe Vera contains extra coating ingredients which is useful for the hair. Using Coconut products and Aloe Vera together on hair creates a separate coating. This prevents the hair from absorbing excess water, thus maintaining the softness and smoothness of hair.
Applying Aloe Vera with Coconut twice a week makes your hair strong and silky. Its antibacterial property helps clean up sebum. Additionally it helps to stimulate hair growth and maintains the pH balance. Therefore both of these natural ingredients i.e. aloe vera and coconut are extremely beneficial for hair care.
Your must also read our article on how to nourish your hair with coconut and aloe vera. Head over to our hair care blog section where we have some amazing articles related to hair health.
Reference:
https://tribune.com.pk/story/1980078/4-5-benefits-aloe-vera-coconut-oil-hair
https://www.healthline.com/health/aloe-vera-hair-mask#how-to-make