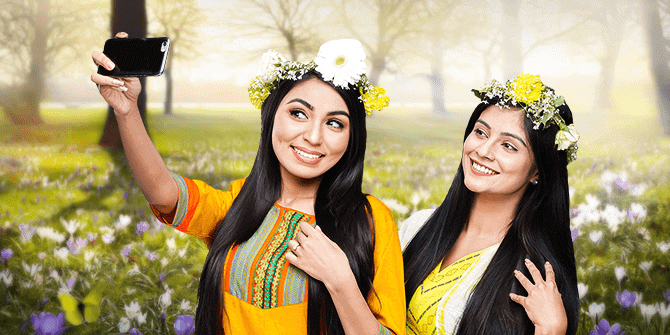 Get Silky, Smooth Hair this Pohela Falgun with Coconut Oil Conditioner
Heat coconut oil until it melts and let it cool down before you apply it to your hair.

Divide hair into subsections and apply coconut oil from the roots of your hair to the ends.

Keep the oil in your hair for at least 2 hours for it to set in.

Rinse your hair correctly with an easily foaming shampoo.

Flaunt your gorgeous hair by using

Coconut Oil Conditioner.
---
Pohela Falgun, the commencing of the Bangla month of spring (Falgun), is a festival much adored by the people in Bangladesh. At this festival, let your style speak out loud as you wear floral wreaths and splash colors across your saree and beauty accessories. You want to look your absolute best as you tread across the joyfulness of the day along with friends and family. Meanwhile, winter hasn't left, and you must be wondering how you could get your hair looking perfect for the occasion. We understand that you probably haven't had the time to primp and prep your hair as a modern-day woman, and so to fix you up in no time, we bring you this Coconut Oil Conditioner. Let your gorgeous tresses stand out from this Pohela Falgun!
Why Coconut Oil?
We all adore silky hair and search for ways to maintain it. How to make hair silky? There are many conditioners available in the market, but most of them are full of toxic chemicals. We fancy ourselves some natural hair conditioner, and that's where coconut oil comes. Coconut oil is the queen of oils, and it is one of the best homemade hair conditioners, full of necessary nutrients for your hair. Let's look at why you should use coconut oil as a home remedy for silky and smooth hair. 
1. Cost-effective
Coconut oil offers an abundance of benefits, yet it is easily accessible. If you ever thought maintaining smooth and silky hair makes your money bag thinner, then organic coconut oil is your trusted ally! 
2. Antioxidants
Coconut oil is rich in antioxidants, and it plays a crucial role in preventing environmental and heat damages. It strengthens hair roots and keeps your scalp healthy.
3. Antimicrobial
Coconut oil contains lauric acid, which is antimicrobial. It reduces scalp irritation and gives relief from further damages from scratching.
4. Antifungal
Coconut oil has antifungal and antibacterial traits, which reduces dandruff. When fungus growth increases, our scalp suffers from dandruff. Malassezia globosa is a common fungus found on our scalp, and coconut oil neutralises this fungus quite efficiently.
5. Deep conditioning
The fatty acids present in coconut oil have a particular molecular structure. For this feature, your hair shafts can easily absorb coconut oil and get all essential nutrients from the inside. This way, it keeps your hair moisturised for a long time. It is one of the reasons this oil is one of the best home remedies for smooth hair. All these are great home remedies for soft hair. You can get silky hair at home with these tips. 
Directions
Heat coconut oil until it melts and let it cool down before you apply it to your hair.

Using a comb, divide your hair into subsections. You could follow it up with hair clips to keep them in order.

Next up, use your fingers to massage the Coconut oil on your hair. Start from the roots of your hair and gently work your way through to the tip of your hair. Continue rubbing until all the oil is soaked up into your hair and scalp.

Coconut oil needs at least 30 minutes to set into your hair. This is the bare minimum, whereas it's recommended that you keep it in for more than 2 hours or even overnight. So before you start with the treatment, make sure you have time on your hands. Rinse your hair properly with a shampoo that easily foams. You may have to shampoo multiple times to remove the oil from your hair properly.

You won't have to use a conditioner after you're done shampoo-ing since the oil has already done the job for you.

Condition your hair twice or thrice a week with coconut oil. You can soon tell the difference.
Frequently Asked Questions On Coconut Oil For Smooth Hair At Home
1. Is coconut oil a good hair conditioner?
Ans. Coconut oil is an excellent homemade hair conditioner. It prevents breakage and strengthens the hair shafts. Coconut oil contains lauric acid, which is easily absorbed by your hair and reduces protein loss. 
2. Can coconut oil be used as a hair conditioner?
Ans. You can use coconut oil as a substitute for store-bought conditioners for smooth hair at home. You can also add coconut oil to your regular conditioner to give it a coconut-powered boost!
Is coconut oil a good leave-in conditioner?
Ans. Coconut oil manages flyaways very efficiently and keeps your hair smooth and shiny. It shields your hair from pollutants and keeps your hair moisturised for an extended period. So, it is safe to say, yes, coconut oil is a great leave-in conditioner. This is a great smooth hair tips. 
Is coconut oil a good deep conditioner?
Ans. Coconut oil is a magnificent natural deep hair conditioner as it smoothes hair from the inside. It can be easily absorbed by your hair and nourish it from the deep. Fatty acids available in this oil give the hair an essential protein supply and protect it from damages.  
Conclusion
Falgun is the perfect time to get some great portraits in Bashonti colored sarees. When you have such gorgeous hair from using the Coconut Oil conditioner, any hairstyle is bound to impress. Not to mention the memories you'll make that you can cherish. So don't hold back this Falgun! For more silky hair tips, check out our other articles.