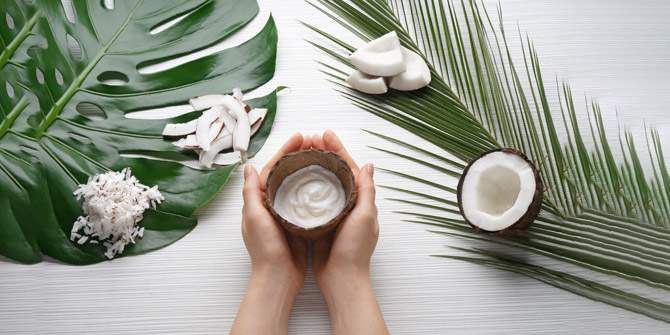 Why we believe Coconut Oil to be the best natural eye cream
The skin under your eyes is thin and exhibits the first signs of ageing

Coconut oil nourishes and repairs your skin

Vitamin E capsules and Coconut oil can be mixed to form a homemade eye cream

Melt Coconut oil in warm water and mix it with Vitamin E capsules and any essential oil to prepare the eye cream
If you struggle with dark circles or puffy eyes, let me assure you that you're not the only one. The stress of your tumultuous life becomes the most visible around your eye area. As a result, you always look fatigued, even if you had a good night's sleep the previous night.
The skin around your eyes is extremely delicate! Ideally, from your mid-twenties, you need to start applying eye cream before you go to sleep in order to protect your delicate eye area. Since the skin under your eyes is so thin, it is often one of the first places where ageing can show up on your face.
But don't worry, by using coconut oil for the eyes, you can fight off the signs of premature ageing. It's the best natural eye cream. If you have a healthy under-eye area, when you get dolled up, you'll have to struggle less with concealing and colour correcting. So, let's find out why coconut oil as an eye cream is so effective. In this article, you'll also learn how to prepare a DIY eye cream using coconut oil.
Benefits
Coconut oil is antifungal, antibacterial, contains essential fatty acids and antioxidants to deeply nourish and repair your skin. 

Due to its high-fat content coconut oil is also extremely hydrating for dry skin.

When you use

coconut eye cream

, it encourages cellular turnover. Hence, the cream may thicken the fragile skin under your eyes. 

Coconut oil contains many proteins, which can help to keep the skin soft and younger-looking. 

The antioxidants found in coconut oil are effective against puffiness and inflammation.

It can also be beneficial in healing and repairing damaged skin and naturally treating many skin disorders.
Eye Cream Recipe
Organic cold-pressed virgin coconut oil can be a great natural option for a DIY eye cream to nourish the delicate skin around your eyes with care. Take a look at how you can easily make your eye cream using coconut oil and Vitamin E capsules.
Ingredients
Four tbsps organic cold-pressed virgin coconut oil

Four vitamin E capsules

Three tsps rosehip or any essential oil
Preparation
Use the double boiler method to melt coconut oil

Make sure the water is not too hot as not to destroy any of the beneficial properties of cold-pressed coconut oil

Pierce the Vitamin E capsules and add them to the melted coconut oil

Lastly, add the rosehip oil and stir all of the ingredients together

Store in a small glass jar and keep it in a cool, dark place

You may store it in a freezer to solidify
Application
Remove any makeup from your face and cleanse your face with a good face wash

To keep it hygienic, use a spatula and take a small amount of

homemade eye cream

Apply the

natural eye cream

with your ring finger in a circular motion

Don't put much pressure

Don't forget to massage it on the sides and over the eyelids

You may use it at night or in the morning at your convenience
This is how you can prepare an eye cream at home. Both coconut oil and vitamin E have nourishing qualities. On top of that, rosehip oil is potent with anti-ageing agents. It also promotes healing and brightens up your skin. Very few home remedies can repair your under eyes as effectively as this concoction. So, use coconut oil for the eyes consistently for up to two weeks to get awestrucking results.
You must also add coconut cream in your daily skin care routine as coconut cream helps to make the skin smooth.
Frequently Asked Questions
Is coconut oil good for eye skin?
Yes, coconut oil is rich in anti-fungal, antibacterial properties. It also contains antioxidants. So, if you have dark circles or puffy eyes, it can help you greatly. However, you must be consistent with the usage.
Which oil is best for under eyes?
Coconut oil is the best option when it comes to repairing under eyes. For the best result, you should use cold-pressed virgin coconut oil. It prompts cellular turnover and rewards you with a brightened up under-eye area.
Does coconut oil get rid of eye wrinkles?
Yes, regular use of coconut oil helps get you rid of eye wrinkles. The affordable product stimulates collagen production and regenerates your skin cells. It can reduce the appearance of wrinkles and helps make your skin look younger.
Can you put coconut oil on eyelids?
Yes, you can. However, you should be careful while applying it to your eyelids. In case it gets inside your eyes, splash cold water on your eyes immediately.
Sources:
https://www.everydayyoungmag.com/diy-coconut-eye-cream/

https://bellatory.com/skin/Homemade-Eye-Cream-With-Coconut-Oil-and-Vitamin-E

https://greatist.com/health/coconut-oil-for-dark-circles#how-to-use

https://www.womenshealthmag.com/beauty/a25179864/benefits-of-rosehip-oil/

https://www.stylecraze.com/articles/how-to-get-rid-of-wrinkles-using-coconut-oil/#:~:text=Though%20there%20are%20various%20cosmetic,that%20it%20isn't%20expensive.

[sc name="recipe_why_we_believe_coconut_oil_to_be_the_best_natural_eye_cream"]